#5: D-Group
I know myself well enough to know that I will choose sin if I don't have people around me who also know my weak spots and who will refuse to let me yield to them. I also know humanity enough to know that we're all built like that.
One of the best pieces of advice my mentor ever gave me was: "Beware anyone who avoids accountability." It sounds similar to Solomon's advice in Proverbs 18:1.
"Whoever isolates himself seeks his own desire; he breaks out against sound judgment."
It's true of me. When I refuse to answer to people, it's usually because I have something to hide.
So I gathered a group of girls around me in an effort to be honest with each other. We call it D-Group (short for Discipleship Group). The purpose of this sort of community wasn't just so we could feel less alone in our sin, but so that we could fight alongside each other. And by the grace of God, we've seen some unprecedented victories. When we fail each other (and we have), we immediately set out to confess, repent, forgive, and learn from our mistakes.
More than 40 people have been involved in D-Group since its advent in Feb 2009. We've split into separate groups, because we like to keep each group at 12 or less. Here's a photo from our All D-Group Christmas party.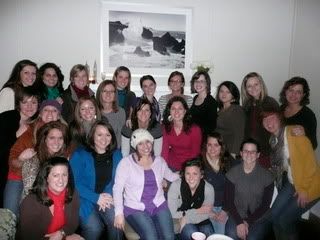 These are the girls who fight with me for my heart and for the glory of God. I am so thankful for them.