Since we last spoke, I went on that amazing Royal Caribbean cruise I was telling you about. I'm doing the music on another cruise in February, and you should totally
join me
. Space is limited so you should sign up now! P.S. The rates are really affordable because they're group rates. AND we're going to Cozumel, Jamaica, and Key West. I can guarantee non-stop fun.
To convince you, I'm going to show you some photos from last weekend's cruise to the Bahamas. It was a 4-day, 3-night cruise to Nassau and a private island called Coco Cay.
08.31.07
Our ship, the Majesty of the Seas: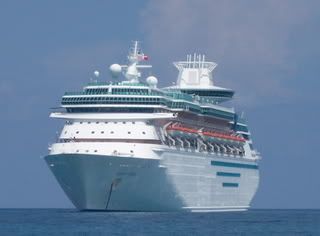 09.01.07
Rob jointed me for my first para-sailing adventure. I want to rent an apartment up there. It's fantastic!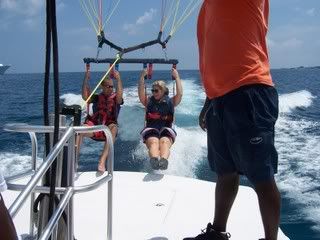 And here we are in the air off the coast of Coco Cay.
Upon returning to the ship, I watched the belly-flop contest.
Then I ran into some pirates.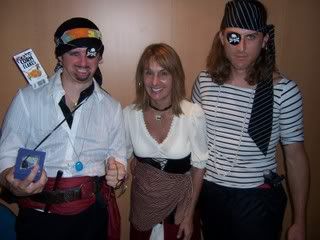 This particular pirate likes to dress in disguise. And he doesn't really like gold... he only steals
sunscreen
.
09.02.07
In Nassau, we went for an island tour (unexpected highlight: the hospital where Anna Nicole's baby was born) with a fascinating tour guide who was known around the island as "SHOWTIME!" And it was always spoken like that.. never just "Showtime." Everyone said it with joyous affection. He is legend.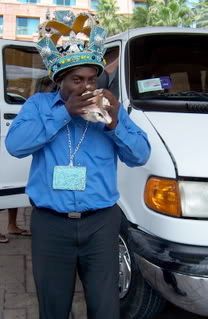 If you check the face of the woman to the left, you will see the appropriate reaction to nearly everything SHOWTIME! says, does, wears, and thinks.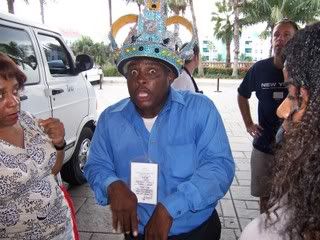 We went to a fort where Dee drank coconut milk. From a real, live coconut. Take THAT, Dole.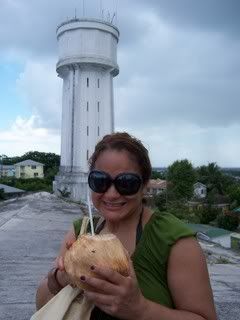 Then off to Paradise Island / Atlantis, where we were stalked by sharks:
And manta rays. Or sting rays. Or whatever these things are.
After we got back to the van, SHOWTIME! greeted us with a little song-and-conch number. Enjoy.
Then we strolled the streets of Nassau. What are the chances that a tourist could find a place to spend endless amounts of money on various China-made goods with "NASSAU" written on them in glitter???
100%
And what are the chances that you could see a woman walking down the street in broad daylight wearing foam curlers in her hair?
Also 100%:
Lovely:
Also lovely:
Glenn treated us to a song called "Cockroach." If I ever record
Humor Me, Vol 2
, I might have to cover it. Brilliant!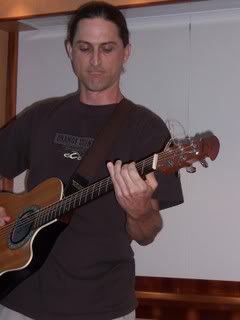 09.03.07
In the Viking Lounge, Rob demonstrates the proper way to be sophisticated if you ever happen to go to Cuba (wink wink). This is also the most popular way to develop lung cancer.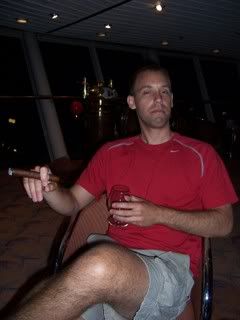 I returned to NYC at the onset of the much-loved-and-hated
Spring Fashion Week
. If you don't live in NYC, chances are you couldn't care less about this week. But in NYC, it takes over the entire island.
We managed to get some passes to the tents, so we hit up the Terexov show. Here are some shots from the show. Not that you care. I don't either, but I already put them up. Whatever.
09.04.07
While walking home from a debut party at
Te Casan
, Erica and I spotted two unmanned NYPD horses. We petted them. Petted is a weird word.
09.05.07
NYC is also just wrapping up from a cab strike. Here's what almost everyone seems to think about it.
Waaaaay back before I went on the cruise, I also went to Rick's going away party. He moved to Nashville. Here are some fun shots from the party.
08.23.07
Rick and Jon show how gray can fun.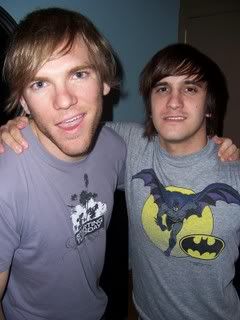 Josh and Rick statues.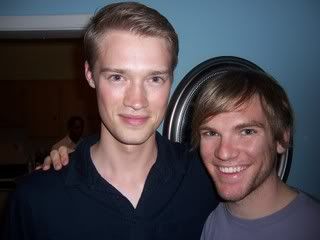 Humans.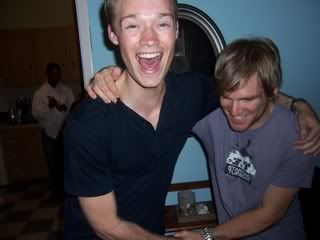 My attempt at statue-dom: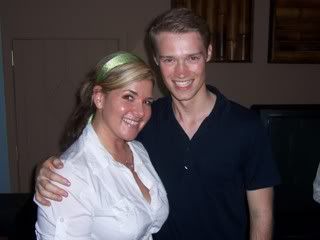 Chris, Shelby, and Steph: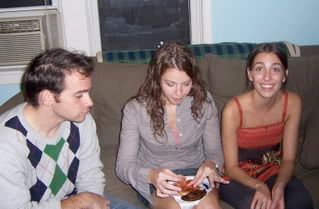 08.24.07
I found these on Ebay for $1.25 each. SCORE! SHOWTIME!
In other news: I just had a root canal. It was awesome.
Okay, that is all for now. I seriously have to get some work done now. Booking for the fall. Interested? Let us know: booking at tara leigh cobble dot com.
~TLC
*