I learned something new about NYC yesterday: the downtown Q train is a time machine.
No one's sure
what's going to happen to Coney Island after this season ends -- there are rumors it will be turned into residential properties or that it has been bought by Disney. I had never been and wanted to check it off my To Do List, so Erica and I headed out for an afternoon of some ol' fashioned fun yesterday.
Here's one of the stretches of sideshows and street games.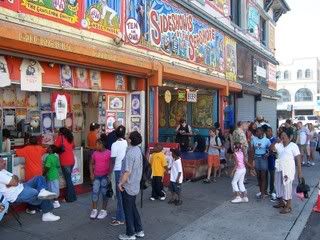 The view of the beach from the rickety boardwalk.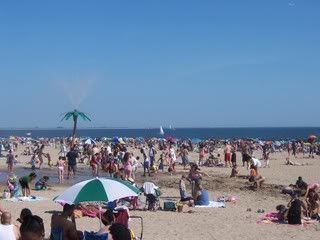 Familiar sight: graffiti and busted windows. Meanwhile, two blocks away, someone is about to invent breakdancing.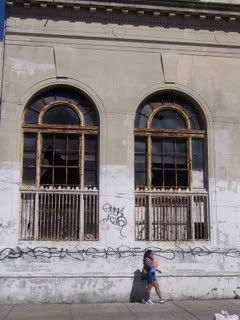 Now I'm going to share a video with you. It is neither good quality nor entertaining, but suit yourself. I filmed it while riding in the very back seat of the famous Coney Island Cyclone, a roller coaster that will shake your teeth from your gums. While we stood in line, we saw the boards shaking, some of them no longer connected with any kind of hardware--just lying across the tracks. Good times.
To celebrate our survival, we stood in line for nearly 30 minutes to get a $2.75 hot dog from Nathan's. Do not want.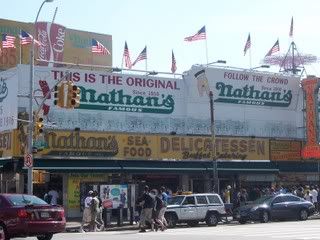 08.12.07
Erica pauses to enjoy the beefity-goodness while, elsewhere in Brooklyn, young Rudy Huxtable takes her first step.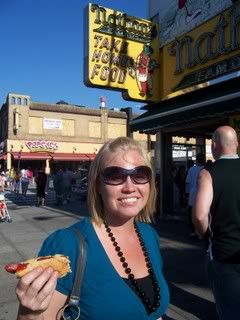 We were only there for about two hours, but I feel like I stumbled upon the true essence of Coney Island. I took a picture of it so you can enjoy it, too.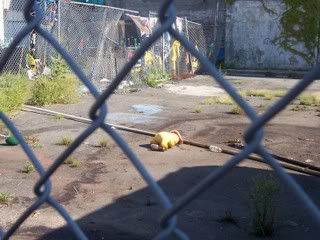 In case you can't tell what that is behind the chain-link fence on the main drag, I'll fill you in: it's a bear wearing a sombrero, facedown on asphalt, with a beer car and a dirty water bottle at his feet.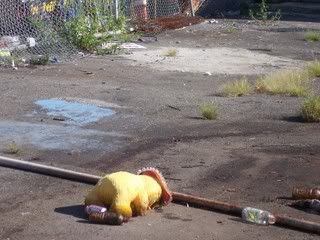 The End.