Yeesh! I've had no less than ten people tell me it's time to get crackin' on the HTH again. It's been too long since I've posted, but I blame life and its insistence that I live it (but I happily submit). So here's what's new around the ol' TLC/HTH homefront.
1. La Familia
- Mom: she insisted on taking herself off the strongest of her meds
cold turkey
and bodies just aren't meant for that. She passed out and ended up in the hospital for about a week. Hear that, reader? Doctors have to study for so long to learn important things we don't know. At long last, she is home, mingling good days and bad days, but hopefully getting better all the time.
- Dad: he fell a few months back and broke his shoulder but didn't see a doctor about it for too long. It's growing back weird and he's going to see a surgical specialist on Monday to set a date for surgery.
- Nephew: Oh yes! This is a new one! My nephew rides a motorcycle and was driving along quite safely at a low speed when,
lo and behold!
a cow ran into him. I'm not making this up. It had somehow escaped its fencing (not the kind with salles and sabres), ran into the road, and broadsided him. So now my nephew has a shattered shoulder and several torn ligaments in his knee. He's alive though, which is more than I can say for the cow. Although other cows have known
stranger fates.
2. Moi
(Yes, I just switched languages. I'm cultured like that.)
- Still editing the new book. It's far more challenging than actually writing the book, or maybe that's just what I tell myself.
- I finally sent out my support letters, after three solid years of
Pride and Procrastination
(the original title of the Jane Austen classic). If you missed the boat on that one, it's
never too late
. Just send me an email: tlc at taraleighcobble dot com.
- I cleaned out my closet! It wasn't super cluttered, but it's always good to find things I can get rid of or sell on Ebay. People ask me all the time if it's hard to not have as much space in NYC, but I really like the way it forces me to only keep the things I love. I've spent far too much money on things I forget that I own.
- Sadly, I'm really slacking on the Photo-A-Day. I'm going to post some pictures here and we'll all find out exactly how many days I missed.
Let's go!
07.08.07
This guy has an awesome apartment.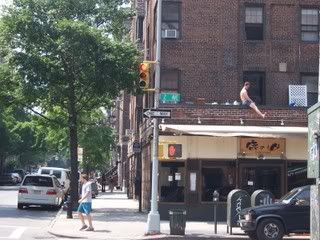 07.09.07
Ashley and I had lunch at
Morandi
. You get one guess what she does for a living.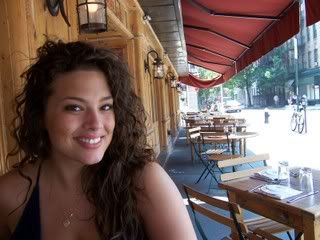 07.10.07
I don't remember his name, but you might.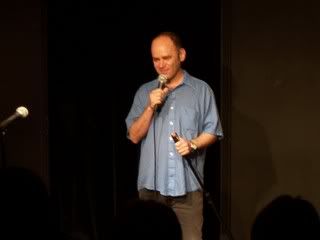 07.11.07
What a delightful surprise! I bought these mints because they have the Chrysler Building on the tin, and when I opened it up, the mints were in the shape of NY!
07.12.07
Drove to TN for a show. Nearly ran out of gas on the mountain. Thank God my friends own this.
To the rescue!
07.13.07
My family's land that is being taken over by the
TVA
. They started erecting these gaint power lines and cutting down all our trees. All we can do is stand by and watch.
Eminent domain
is a destable procedure.
07.14.07
I attended the Dangie Wedding (Danny + Angie = Dangie). Lovely!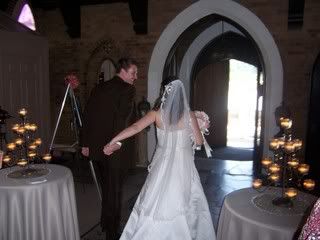 Jane was there!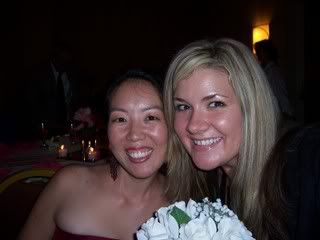 07.15.07
Mom and I went to visit our friend Mrs. King at the nursing home where she lives. This sign was on the door. At a
nursing home
. Priceless.
07.16.07
Now there's someone around to hear. Oh wait... no ears! Dangit.
07.18.07
Ester let me go with her to pick up her wedding ring! Beautiful! She had it sized down quite a bit and it fit perfectly. As she admired the handiwork of the jeweler, I wondered what they did with all the extra gold.
07.19.07
Bradford and August have some habits.
07.20.07
I drove to WV to be in the wedding of my good friends Kristen & Seth. A little background: he is a model and she is a photographer. I met them at
Models for Christ
. There were 11 bridesmaids and 12 groomsmen, most of whom were also models. You are about to embark on pictures of lovely people. Exhibit A: Josh, my duet partner and escort.
The wedding was filmed for the Style Network's show "Married Away." I'll let you know when that is supposed to air, because the wedding was beautiful and the people from Style seemed baffled to encounter two virgins.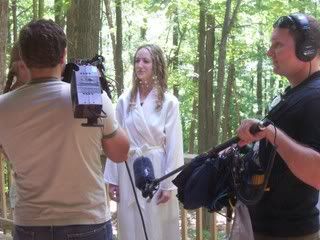 Josh snuck some icing.
Brown had the pleasure of stabilizing the cake during the 45-minute drive to the site. Through the mountains.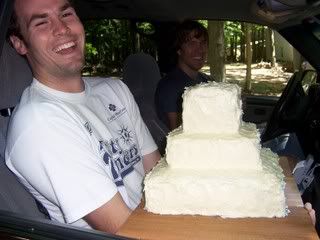 Table for the Mr.& Mrs.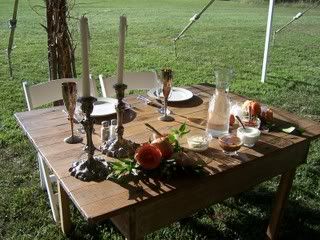 Cake! (Way to not smash it, Brown!)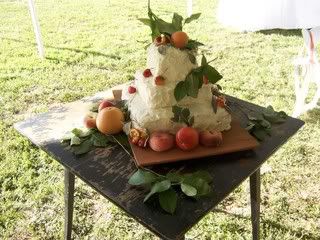 Jono, Josh, and Shawn are professionally attractive.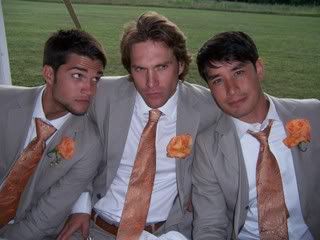 07.21.07
Congrats Seth & Kristen!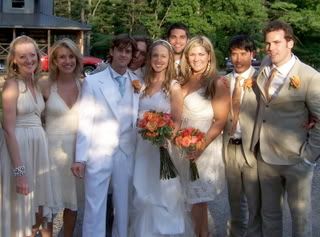 07.22.07
I visited NYC's Kwik-E Mart. Apu greeted me!
Marge, those two sacks will run you $150 bucks here.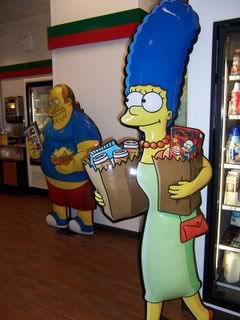 Signage.
07.23.07
Here we have a rare sighting of the dragonfly in the City. Also, it's dead.
Four blocks away, I spotted this. Coincidence... or Suspect #1?
07.24.07
Pretty evening. ESB. American flag.
07.25.07
Protests? In Union Square? No, really?
07.27.07
Horatio Sans as Robo-Beard.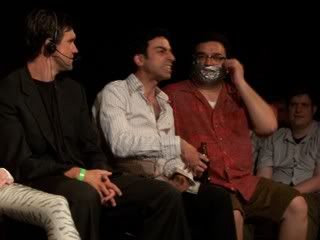 A bunch of people all pretending to be Bill Cosby. So much funnier than I imagined.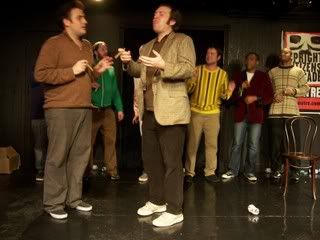 07.28.07
The most upright of all citizens.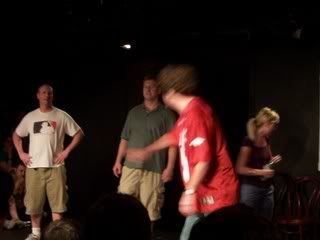 She rebuked me for taking pictures (even though it was totally legal), so I had to post it... otherwise my rebel-photography was in vain!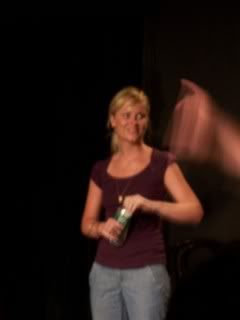 Ed Helms and friends at the Daily Show / Colbert Report Faceoff.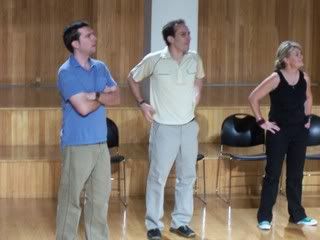 07.29.07
No one knows for sure what this is or why Ed Helms has his shirt off, but this was billed as the highlight of the weekend comedy marathon that my friends and I attended (which is what all these photos are from).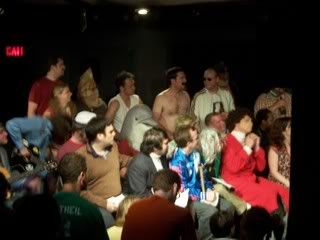 07.30.07
This is where my dad would make the following joke: "That's a place where people are dying to get in." And my friend Brad would say, "Right now we're passing the dead center of town." Every time I pass a cemetery, those two jokes run through my head. Never fails.
07.31.07
My friend Scott swears that 4-leaf clovers are a myth. I pointed him to Wikipedia, but he discredited it as a reliable source of information. So here you go, Scott... actual proof!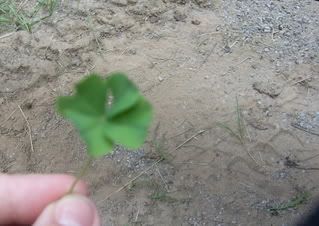 08.01.07
Those park rangers have to take the fun out of everything!
08.04.07
Hello, the South.
08.05.07
This was the view from the Thompson's cabin, where I spoke and sang at a women's retreat. It's in the middle of 52,000 acres of state-protected forest. Spectacular!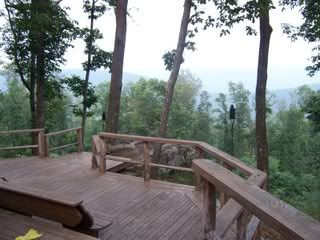 That is all for now, my friends. But I'm already writing a new blog for tomorrow. Now put your comment hats on and get to work!