*
Dear friends,
I am 91% done with the first draft of the new book (based on my word count goal). I hope to finish the rest today... we'll see. I eventually may ask you to vote on your favorite title. I have my favorite, but I've also been keeping a few others in my back pocket just in case.
Here are some photos from the past few days. I'm trying to be better about posting the photos regularly, because when I have to do the long blogs those are such beasts! Besides, I'm parking my car right now, so it's perfect timing... I'm just sitting in my car for 90 minutes.
06.27.07
Ooh, nature! In New York City!
I also stumbled across this peace garden on E. 52nd Street. Preee-teee.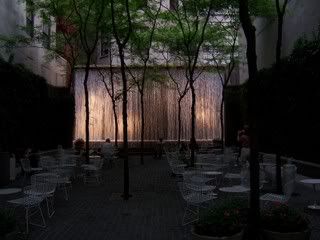 06.28.07
My friends wanted to go to the Met game + I wanted to hang out with my friends = I ended up at a Met game. Unfortunate math.
We had to ride the train
forever
to get there. Aaagh. Seriously it was a 50-minute ride during rush hour, standing smashed up against strangers. After 45 minutes, the train cleared out enough that we were finally able to get seats. I now have a great deal of sympathy for the daily commuters from the outer boroughs (Brooklyn, Queens, Staten Island, and the Bronx).
06.29.07
International iPhone Day! I didn't get one, but I did swing by the Fifth Avenue Apple Store to see the madness. People started lining up on Monday, and today they had to rope off a lane of Fifth Ave to accommodate all the people. The line has cleared a lot in this photo, because it was 8:30pm and a lot of people had moved through already.
I also took a 14-second video of the employees clapping for people as they walked out of the store. This would be a good job for a former cheerleader, because they had to be enthusiastic like this for
hours
.
The Museum of Modern Art is free on Fridays from 4-8pm, so I went by to check out the Richard Serra exhibit.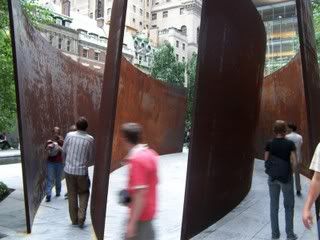 Here's a distant picture so you can see how
yoooge
it is. This is actually one of the smaller pieces in the exhibit.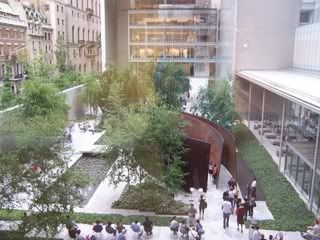 I grabbed some shots of my favorite pieces throughout the MoMA. I am pretty sure it was okay for me to take these pictures because:
A) Everyone else was taking pictures.
B) There was a guard in every room while I was taking the pictures.
C) No one tackled me.
Behold: giant wall with writing on it. Can't remember the artist's name. Lots of social and political commentary... wish I had a closeup.
From the design museum. Not super exciting, but it's just so
tiny
for a helicopter.
Favorite Photo:
Girl in Bed on the Telephone
by Irving Penn
One of my favorite paintings (but not at all my actual favorite):
OOF
by Edward Ruscha.
And I don't remember the name of this artist either, but I thought it was great.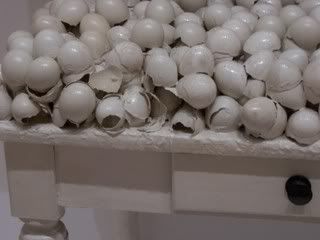 And here is a pretty picture from the south end of Central Park at sunset. Bono lives in one of those towers at the far end.
Then I met up with Amanda in the park while she was walking the dog voted Most Likely To Make Everyone Stop And Ask Questions and/or Want To Take Photos. It's an Afghan Hound and it has to wear that hood and those leggings to keep its long hair from getting all tangled up in stuff.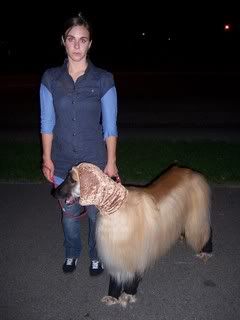 06.30.07
Ferris Bueller, you're my hero.
Went to hang out in the park with some friends and came across these people dancing. It seemed like an event more than a happy coincidence, but you never know.
Here is a 14-second video of it. I seem to prefer filming 14-second clips. Who knew? By the way, there is some guy laughing freakishly at the end. I don't know who he is. If it's you, I'm sorry for saying you have a freakish laugh, but I'm sure you've heard it before.
Then Sam shared a meaningful gaze with Nicholas the Dog.
07.01.07
Sometimes I feel weird about having random strangers as my Photo-A-Day, but this made me laugh. I was sitting at the Starbucks at 70th & Broadway when I saw this.
I'm off to write now... I hope to have some good news to report tomorrow!
Have a stellar day,
~TLC
*