Independence Day is one of my favorite holidays. I'm lucky if I can make it through the fireworks without crying. I'm happy to report that I only cried during the "Star-Spangled Banner" last night, and partially because no one at my party seemed to know the words. They half-sung phrases from other parts of the song. They were "rockets red glaring" long before the "perilous fight" even started.
Anyway, here are some shots from the party I attended on the Lower East Side of Manhattan. Next year I will probably try to grab a spot on the FDR, because they shut down the whole highway for people to sit in lawn chairs and watch the fireworks over the East River. Or I might go to Brooklyn so I can have the view of Manhattan's Chrysler Building and Empire State Building as the backdrop to the fireworks across the water.
First things first. Erin loved that this apartment building had a wall-mounted
Rascal
. Although she declined to ride it up. (Hah! Declined! Accidental pun.)
Jon Zungre wore his sister's socks. You may remember her (Stephanie Zungre) from last week's blog where I recounted her demise. The socks are yellow with pale blue and green geometric shapes. Nifty. Also, lest you think that hairy arm belongs to me,
it does not.
Party on the upper roof.
Party on the lower roof. Wait! How did they get down there so fast?
I like to look down on people because it makes me feel superior.
This was the view behind us.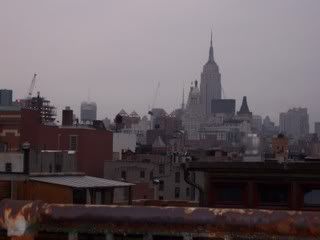 07.04.07
This is the view OF us.
And I'm sorry to report that my camera died just as I was about to take what would have surely been The Greatest Photos Of All Time. Here is what I managed in the final moments of the life of my battery.
Despite my failed attempt at Photojournalist Stardom, here is what actually took place last night in the skies of New York City. I am not shrinking these because they are worth it.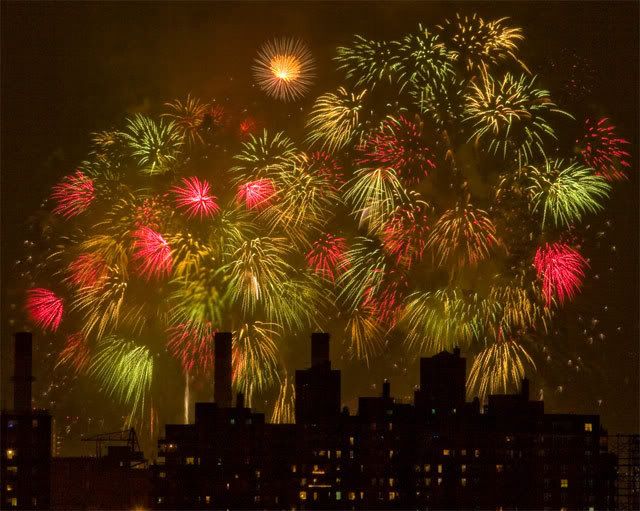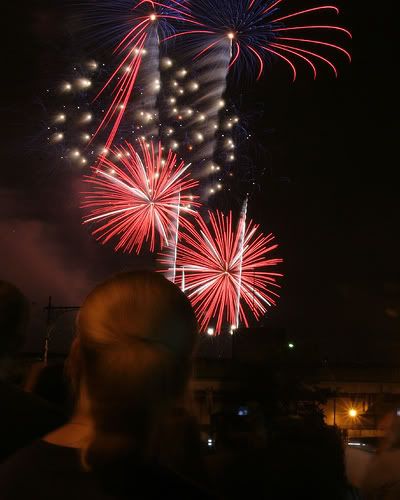 They always synchronize the show to the songs they're playing on the radio. These smiley faces came during the last line of this section of Louis Armstrong's "What a Wonderful World."
The colors of a rainbow, so pretty in the sky
Are also on the faces of people going by.



This year NYC had something exciting for the first time ever: waterworks! According to Gothamist they're actually called "Nautical Mines." It's where they fire pyrotechnics into the water instead of the sky. Check it out!


If you ever get a chance to catch the Macy's Independence Day fireworks display, I highly recommend it. Not to brag (okay, yes), but the NY Sun said that NYC has 55 times the explosions of any other city in America. The average city's show includes 500, whereas ours has over 1300 in the first minute. This year the show had 40,000. I personally only counted 37,000, but I suppose I trust the paper for the accurate number.

Happy independence,
~TLC

(Flickr photo credits and thanks to: TomVu, fresh bread, i'mjustsaying, Pabo76, kin, dietrich)
*