So much has been happening, you guys... it's hard to blog it all sometimes! I will try to update you on what has happened this month. I'm 85% done with the first draft of the book. Exciting! Also: I'm blogging this while watching the Paris Hilton interview with Larry King, so if I accidentally type the word "cell" or "orange jumpsuit" in the middle of a sentence, that's why. Here we go:
06.01.07
Sometimes we hang out in my window. Actually, we do it a lot.
06.02.07
Jane came to visit for the weekend, so I took her to the bubble, because we needed some free entertainment.
06.03.07
Sunday brunch with Jane, Lauren, & Amanda at
Sapa
, then headed to Sheep Meadow in Central Park to hang out.
Bradford came too!
06.04.07
My friend Kamel works at
Calvary St. George's Church
. I snuck in and took some pics. This might be illegal.
A nightmare for those with ADD.
06.05.07
Decided to change up my writing locale, so I skipped Doma and headed to The Bean. It rained while I was walking, but fortunately I had this sweet new mushroom umbrella that I bought from a street vendor for $10 !!
06.06.07
I got this birthday present from Ester, and it is freaking awesome. It's called
City Secrets
. The inscription inside says, "To the best naturalized New Yorker around!" That's quite a present in itself, as if the book weren't enough.
06.07.07
I so adore summer rainstorms. I always hope I'll get drenched when I am not carrying my laptop or anything important. I really wanted to go over to Jack and dine with the people under the awnings.
06.08.07
I lost the back of my VX8300, so I had to get this ridiculous-looking holder so that the battery wouldn't fall out. If you have this phone and don't need your back for some reason (perhaps you happen to LOVE using the holder -- who knows?), I would love to have it. Until I get can an iPhone in about a million years, I will have to use this thing, which I have dubbed "The Dad Protector" because everyone I know who uses these holders is a dad.
06.09.07
Manhole fire on Fifth Avenue! Stinky. But I don't think anyone was hurt.
06.10.07
I saw this man while eating at French Roast on 6th Ave, and he won me over. His sandals were worn and he was carrying a book that looked like it was going to fall out of its binding. This man had some serious personality happening. I love seeing people like this on the street.
06.11.07
I taught songwriting at a summer arts camp once, and I met an amazing girl named Susanna Vagt. She traded me one of her paintings for two of my CDs. What a deal! I've had her art on display in my house ever since. I just tracked her down on Facebook and she's studying art in college now!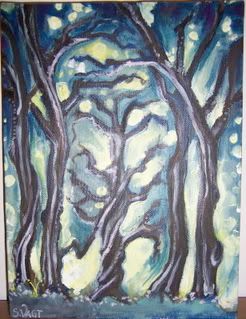 06.12.07
Forgot to take my camera out today, because the battery died. So now I'm home now and don't have any idea what to shoot. How 'bout this great new tea that I love? I drank it once in Dallas and was so happy with it that I asked the waitress to bring me the package. I carried it around for 2 months before I could find it anywhere. I finally located it online, thanks to my friend Emmalea. Woo!
06.13.07
Headed to TN for a few days, and my mom mentioned that she likes "those Wallflowers from Bath & Body Works." Since there isn't a B&B anywhere near my parents' house, I stopped to pick up a few scents for her. I got one for me too. It's Magnolia and I can't stop loving it!
06.14.07
I am about 7 years behind, but I just started watching Felicity via Netflix. The
Dean & Deluca
where she worked is right around the corner from my apartment, so I went there to work. They have tons of tables and outlets, and they do not hassle you to leave. It's great if you aren't looking for something cozy.
06.15.07
Amanda and I went to Nashville to sell all my stuff there, and I finally saw one of the R2D2 mailboxes that the USPS put out. We had these in NYC, but I think they all got defaced.
06.16.07
Even though I sold almost everything (and left the rest sitting on the curb), I did save a few things that I found in my pile of belongings. This sweet Bodum French Press made the cut.
06.17.07
Somehow, I didn't get any pics of the gigantic yard sale or even of Amanda. We did see this billboard that Bradford put up, though. If you think he's cute, give him a call.
06.18.07
Back to NYC, $900 richer. Let's celebrate by going to a free comedy show, mmkay? Gee, I hope Fabrice Fabrice is there...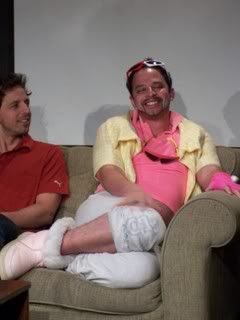 And Seth Meyers from Saturday Night Live...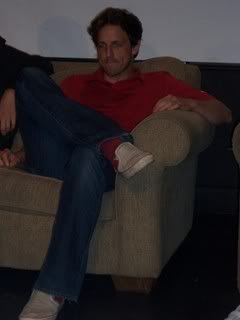 And Leo Allen, but with only one leg. I know it seems like a lot to ask, but I just think it would be awesome...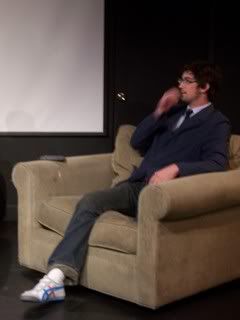 06.19.07
Ladies and gentlemen, Rob Riggle. I have never laughed so hard.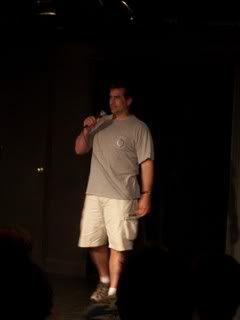 06.20.07
I picked up these new running shoes at Off Broadway in Nashville... on sale for $44 from $115!!! They are my first pair of Asics, and after running in them for the first time today, I've gotta say... I love 'em! I'm training for a race, and they are so less-back-hurty than my old New Balances. Despite all logic, I have the arches of a ballerina and these fit like a dream! If you have super-high arches, these shoes are for you, my friends.
06.21.07
If you're going to run a race, you have to also drink this yummy stuff, right? Actually I drink this all the time anyway, because I seriously love it. Let's be honest, though... it looks like motor oil.
06.22.07
Bradford's birthday at The Bohemian!
If you don't come to his party, Amanda will beat you up!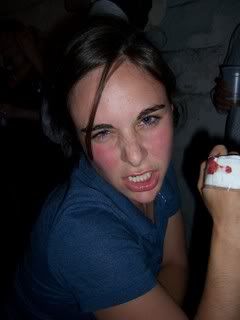 Thank goodness all these people showed up...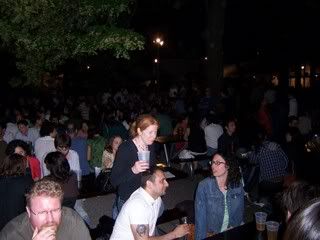 Zach looks like he's about to take out a few people, too. Left hook!
06.23.07
Lauren finally finished the teaching job she abhorred, so I went with her, Erica, Bob, and Mark (those may or may not be their real names) to celebrate on a yacht.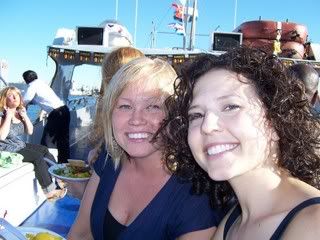 "Whatever... I do this yacht thing all the time... it's no big deal..."
Here are a few fun views from the yacht's departure.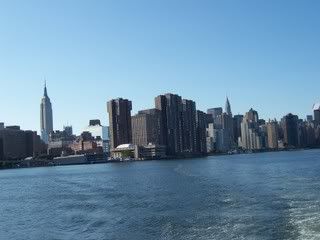 06.24.07
They were giving these away on my corner, so, you know, whatever. It served me well since I forgot to take a picture today.
06.25.07
MTV was filming something outside my window.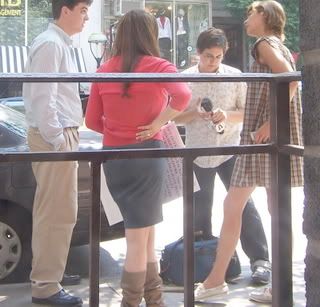 06.26.07
Went to Benny's with the gang. There was a lot of playing with toothpicks going on.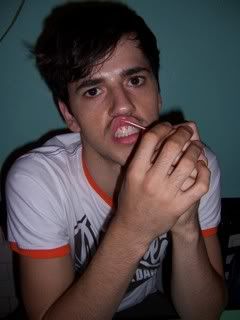 Here, Amanda points out that Sam has a gold star. He got it for brushing his teeth every day this week!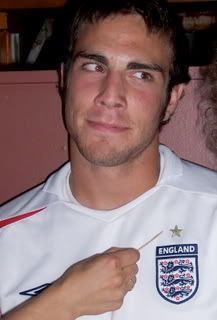 Sibling love.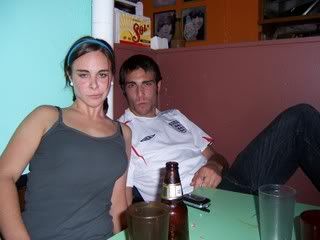 And now for a story line. I call this one
"Stephanie Zungre Sells Her Soul,"
starring Stephanie Zungre as herself and Amanda Janes/Fairchild/Jones (whatever her SAG name is?) as Satan. (Sidenote: All but one of these pictures was actually candid... I have unbelievably animated friends.)
Scene I, Act 1: Satan lures Stephanie to try clove cigarettes.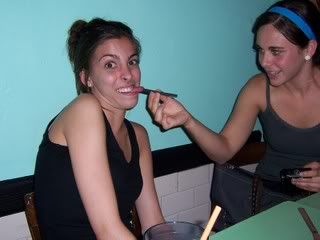 Scene I, Act 2: Satan taunts Stephanie for giving in.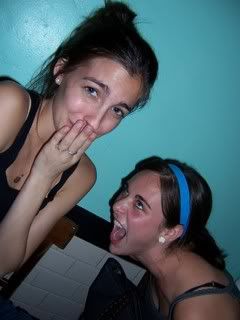 Scene II, Act 1: Stephanie is forced to sign over her soul.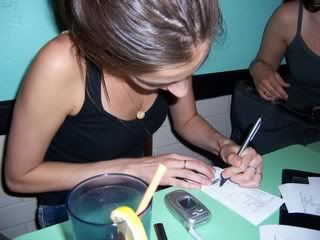 Scene II, Act 2: The downward spiral begins.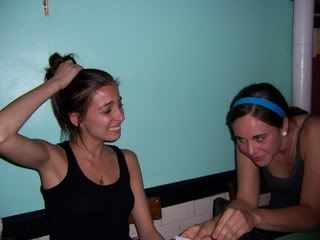 Scene III: Total regret.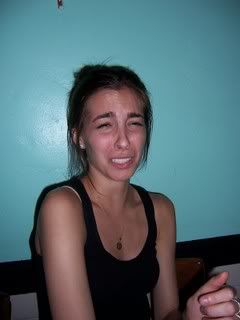 And... scene!
Wow, what a terrible way to end a blog. Perhaps I'll end with this video instead... it's Fabrice Fabrice talking with Seth Meyers and Leo Allen. Yes, it's comedy, but guess what... no curse words! Stephanie Zungre would be proud. Here's the setup: Fabrice Fabrice, a character played by Nick Kroll, is the craft services director (they provide the "food and tiny waters" to the stars) on many television shows. Enjoy!
*