May is the best month of the year in NYC, in my opinion. October is also great, but I prefer the colors of spring over the colors of fall, and I also enjoy the fact that summer is coming instead of winter. So... hooray for May!
I've been working on the new book, trying to crank out rough drafts of a chapter each day that I work. It's a tough job! I've decided to run a contest to help me with the book, which I will tell you more about in a separate blog entry. Stay tuned!
As for now, here are some recent photos:
05.11.07
Went to
Sushi Samba
with some friends, then walked through Union Square hoping to see some of the zombies from the
Zombie Mob
but then I was too afraid to take any photos of the ones I saw. People who will roam about wearing fake blood and torn clothes would certainly not hesitate to smash me. Instead, I took a shot of the very familiar drum circle that seems to take place every Friday night. It's hard to tell, but these people are dancing.
Saturday brunch on the sidewalk at
Esperanto
. Stellar!
05.12.07
Had a show that night in Allendale, NJ. Kristen went with me to help sell merch and make the trip more fun. Also joining me were my friends Erica, Crev, and Jonathan. This is Kristen by the merch table.
Loved getting to see my old friends like Larry and Lynette. You guys are great! On the way home, I got a flat and none of us seemed to notice until another driver pointed it out to me about 20 miles later. Then we remembered the loud "boom" sound that had occurred oh-so-long-ago. I still haven't taken my car in to get it fixed, but I'm hoping I didn't damage the rim. That's probably impossible.
Had Sunday brunch at
Agave
to celebrate our moms in their absence. The food was splendid but we agreed that we missed our moms.
Update on my mom:
she has managed to wean herself off the oxycodone, which is amazing! She said she was able to stand up last week and walk a little bit, but that she couldn't sit down--she mostly has to lie down all the time. I asked if she wanted some audio books or videos but she said that mostly she is in too much pain to pay attention to anything. That is crushing. Please keep praying for her...
On Sunday night,
Ester
and her fiance Ben went to church with me tonight. Then we went out for dinner at Ollie's and everyone enjoyed it then regretted it immediately afterward. :) Ben just graduated from NYU Law School but still has his student ID, so he was able to give me a tour of the law school. It was so great! I loved the pictures of old New York and getting to see a bit of the school's history. Ben was an excellent tour guide.
05.13.07
Last week, they celebrated their engagement with a big party on the one year anniversary of said engagement. That's when Ester's grandmother gave her the amazing locket in this photo. On a side note: Ester's grandfather looks JUST LIKE SPIDEY! Ester, I know you think I'm kidding, but it is the honest truth--ask anyone! I wish I had a close-up of the locket so we could poll the audience.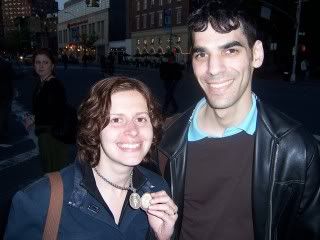 05.14.07
Went to UCB to celebrate the return of our heroes, Rob, Paul, and Aziz. I have pics of all three of them, but Rob gets the honor of being the Photo-A-Day since he's the only one I know.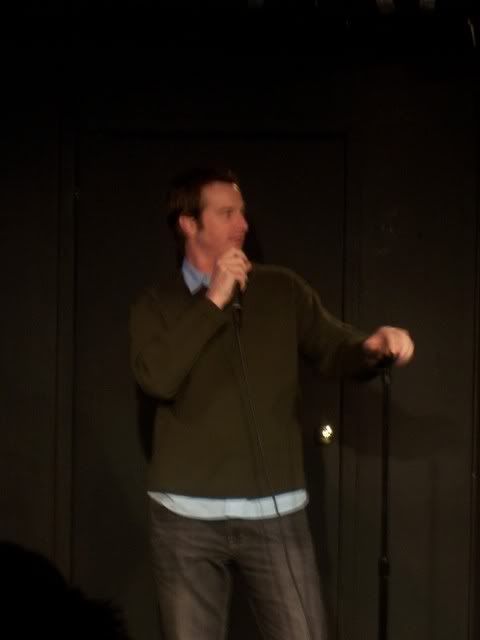 In closing: I'm sending out support letters this week. Some of you have mentioned that you'd like to receive one. If so, email me (tlc at taraleighcobble dot com) with your name and address and I'll be sure to include you. But you might get one even if you don't ask. Mwahahahaa!!!

Much love,
TLC
*