A new place called
Cafe Brama
opened up in the East Village and they boasted free wi-fi, so I had to give it a shot. In Nashville, it was kind of a given that every coffee shop would have free wi-fi. That is not the case in NYC. Although there are a few exceptions, cafes here are smaller, so the owners need a quicker turnover of customers and don't necessarily want them to lounge around for four hours checking their email. Their website had a great picture of NYC (see below) and a decent Polish menu, so I went with Ester to check it out and find out if perhaps it would be my new hangout.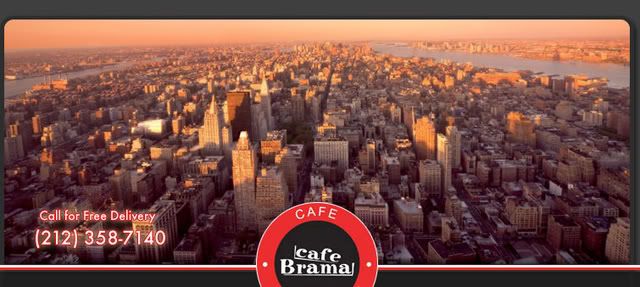 The food was tasty (what little we had), but the room just didn't feel warm and cozy enough to keep me hanging out there for hours working on the new book. The search continues.
03.29.07
10th Street is one of my favorite streets in the city. East-to-west, it has a variety of flavors. East village artists, NYU students in pajamas smoking on the street, West Village families and heiresses. This is a church on the corner of 10th & Broadway.
What you don't often see in New York, though, are large, tacky Easter decorations on the exterior of the homes of the Fifth Avenue upper crust. Amusing.
I'm leaving to go back out on tour again soon, so I'm trying to get in some fun times with my friends before I head out. Friday we had breakfast at
Manatus
, which we learned is Dutch for "Manhattan," although the restaurant itself is Greek. Go figure.
03.30.07
I spent the day working and writing at my favorite spot. I love that it's so small that all chairs are up for grabs, even if there are other people at the table. Only drawback: very few outlets. Makes it hard to stay long if you don't grab the premium spots.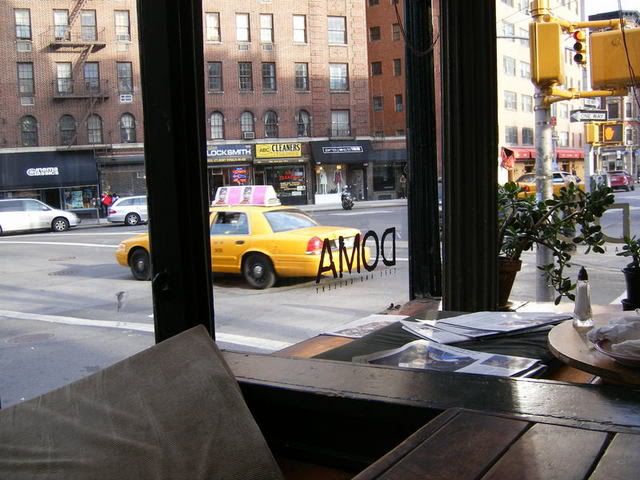 Dinner at
Malatesta Trattoria
(great atmosphere, service, spaghetti) before heading to the
National Comedy Theater
for a night of improv. I'm not usually an improv kind of girl, but this was actually very funny. And for those of you who tend to find comedy too crass and inappropriate, the NCT has a "brown bag foul" rule -- they aren't allowed any off-color jokes. Might be a good option if you're visiting the City and want some family fun.
On the walk home, I saw an amusing sight. There were some skateboarders in Union Square and they had broken down a wooden Police barricade to use one of the boards as a ramp. Two funny things about this: the board actually says "POLICE LINE: DO NOT CROSS" in large white letters, and there were a handful of cops standing 20 yards away. I really wanted this to be my Photo-A-Day, but it's fairly blurry and you can't see the writing on the board or the cops in the background, which would've been wonderful added effects.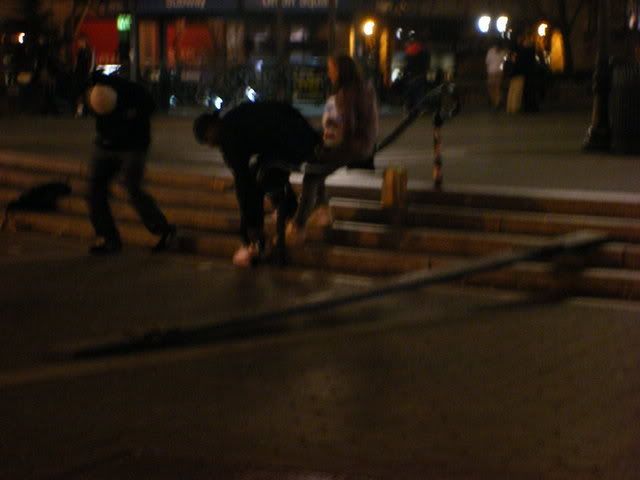 Saturday brunch at
SoHo Park
(great turkey sandwich), before hitting up sample sales at
LF
and
Elie Tahari
. I didn't find jack at the Elie Tahari sale (too expensive), but I stocked up on stuff at LF because everything was 85% off. Crazy! The place was packed. See for yourself in this blurry photo that I tried to take before the shopgirl yelled at me.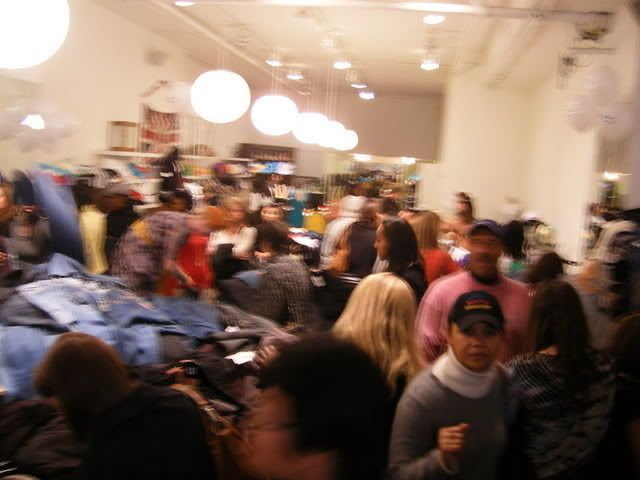 Here are my purchases.
If I told you how cheap this bag of things was, you would want to punch me. I needed some new shoes because I'd been buying shoes that aren't very well made lately and they don't survive the streets well. These were cheaper than even Old Navy but are definitely not cheaply-made, so I hope they last a while.
Dinner with Amanda at
Ini Ani
. According to their website, they have "an inviting space with over 25,000 strips of corrugated cardboard and a wall of 479 cast plaster coffee cup lids." See the cardboard wall? See it? See it???
They have amazing salads and bruschetta! And cheap! I am definitely going back to this place. A lot.
03.31.07
Then off to Beauty Bar for the cheapest manicures in the City! I normally do not spend money on manicures because I'm content to do my own nails at home. However, since I'm taping the TV show this week, I wanted my nails to be in top shape. Here's Amanda with her top-shape nails, too.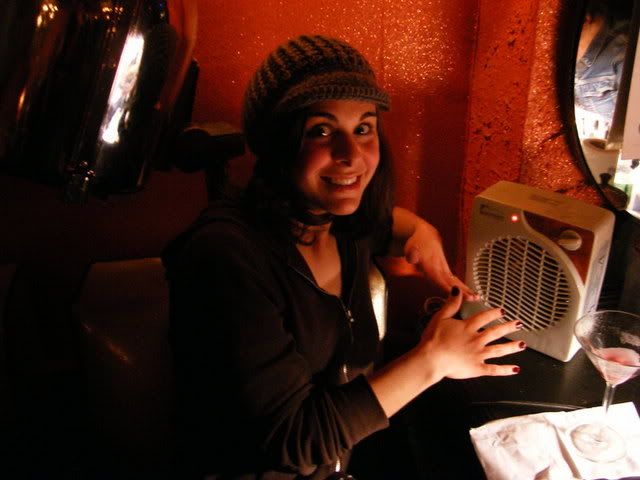 04.01.07
Brunch at
Paradou
with Erin to celebrate her birthday (which I will miss because I'll be on tour). Deeelicious. Here, she enjoys a tomato rose. Not really.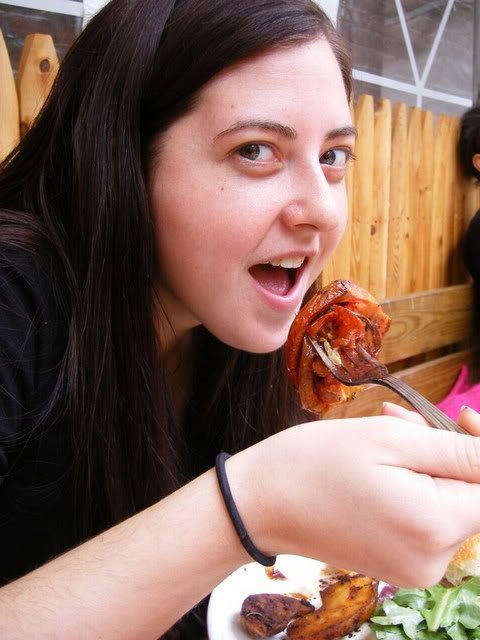 Also, I wanted you to see this picture of a small wire version of My Boyfriend.
He's stellar.
*