I wrote about 90% of
Here's to Hindsight: Letters to My Former Self
while sitting at Fido, a coffee shop unlike any other, located in Nashville's Hillsboro Village. In fact, according to Citysearch.com, "This funky coffeehouse is the heart and soul of Hillsboro Village." Notice: it's not IN the heart and soul of Hillsboro Village -- it IS the heart and soul. True.
Because the temperature at Fido is notoriously unpredictable, you have to wear a tank top and bring a parka. There are only three working outlets in the giant, three-room space. It is often so crowded that finding a spot can try your patience. But despite those few frustrations, there was no place I would rather sit for 14 hours a day and work.
I had my favorite table: the red one by the front door. The proximity to the door meant that I frequently had to endure blasts of cold air (I was writing in winter), but on the flip-side, it was right beside an outlet. Securing that spot every morning was a challenge; I occasionally failed, but I kept a dedicated eye on the table from wherever I'd landed, sprinting full-speed across the cafe whenever the customer seated there made the slightest indication that he would soon be leaving. Stacking his plates? Putting on his coat? Wrapping his power cord? I'd be hovering with my laptop in no time.
There are a lot of reasons why Fido has earned a special place in my heart, but I'm not sure that I can put those down on paper -- they are more the kind of thing you feel, not say. For as long as I lived in Nashville, Fido felt like the center of the Nashville community. Not an hour would pass without someone walking in that I knew. Usually several people. One day, I think I maxed out at seeing 27 friends while I was there working. I made new friends, too.
The drinks were always phenomenal, the baristas warm and welcoming, the food delicious, and the atmosphere comfortable. The music was always at the right level, and it was usually better than anything I had on my iPod. The bathrooms were clean. And since I'm not loaded, it was of utmost value that I could walk up to the counter at any point and get myself a refill for only 50 cents at the honor bar. No standing in line, just fill 'er up and drop in five dimes.
On the morning that I moved to NYC, I met my friends
Josh
and Shannon at Fido for breakfast. I saw five more friends while I was there, including
Steve
. (I won't go into the full list of people I've spied there, but suffice it to say that it is a musician's haven.) With my life packed into a mini van in the back parking lot, I said goodbye to my friends and to my favorite table. And I took a picture of the front sign that has served as the wallpaper on my phone since that day.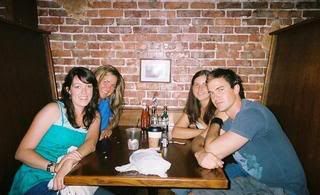 At Fido with friends from NYC during a visit about a year ago.
Usually when I go back to Nashville to visit or have meetings or to play a show, Fido is the first place I stop. I grab a cup of coffee and visit with whatever friends have landed there for the time being. If I arrive in the late night hours after it has closed, I swing by, just to see it -- chairs turned upside down on tables, lights out, empty. I panic at the thought of anything ever happening to it. I don't want it to move an inch, change at all. It is, quite simply, my favorite coffee shop in the world, mostly because it feels like home.
While I worked there over the course of about six weeks, I learned the names of all the baristas and became acquaintances with them all. But my favorite barista was a guy named Joshua, who spoke adoringly of his wife and daughters, and who always had a kind word for me. I never knew his last name and when I went back to Fido after moving to NYC, he had quit working there to pursue a teaching job. I was sad to see the place had changed -- what seems like a slight change was actually a dynamic difference, because that one piece of the Fido family brought a light into the room, shined the love of God to every customer that came through the line.
When I had the release party for the book, I desperately wanted to have it at Fido, but things didn't work out that way (next time, I will plan this in advance!). I ended up at a coffee shop down the street, a great little place that I enjoyed visiting, that had tons of outlets and great drinks and comfortable seating. But it wasn't Fido. You know how that goes.
But then, when I was behind the banquet table, setting up for the signing, I saw a familiar face: Joshua. A friend of his whom I have never met had pre-ordered the book, read it on the day of its release, and noticed the following phrase in the acknowledgments:
"For the creative environments: Fido—where I wrote most of this book and made so many new friends along the way (special thanks to Joshua, my favorite barista)."
"Is this you?" she called to ask him. He had no idea that I had thanked him. So he showed up to thank me and to pick up a copy for himself. And it made my night complete... the whole thing had come full circle.
So I'm a little nervous about finding my "writing spot" here in the City, where I'll sit and drink and write my new book. Fido has set the bar so high that I don't know if I'll be able to tolerate another place if I visit it that frequently, much less love it. There are many coffee shops here that I've really loved, but there's something about each of them that just doesn't suit me long-term. Maybe I can get over it. I hope so. Maybe it's like finding a church family -- you just have to make the commitment and learn to accept those little things that don't go down smooth.
But just yesterday I got this email from Joshua, whom I had tipped off to my plight. It is his letter of recommendation for me, which I will gladly pass along to any barista who gives me crap about staying on the premises from open to close:
To The Barista it may concern,

I am writing on behalf of Tara Leigh. She would be a wonderful addition to your cafe's regular clientele. She is always good for a laugh or two, and her drinks are not complicated. She is very low maintenance and brings a breath of fresh air, I mean, if you like that kind of thing. The most positive thing about Tara Leigh is, that if you take good care of her, she will make you an acknowledgement in her next book.

Sincerely,

Joshua Shanklin,
Fido Barista, Nashville, TN
I hope it works. Otherwise, those daily commutes from NYC to Fido will get kind of expensive.
P.S. Please: there is no "S" in Fido. It is Fido, not Fido's. Fido does not own the place. It is not possessing anything. It is simply "Fido." Check the sign.
*