Every once in a while, I just want to have a "girls weekend," so I tried to pull that off, and it was great fun! Here are some shots from the weekend, as well as my Thursday shot.
03.08.07
Thursday I snagged one of the
good
seats (read: view, outlet) in my favorite Starbucks and worked for most of the day. Despite the fact that the baristas there see 15,000 people per day, I'm happy that a handful of them know me by name. (NYC)
On Friday, I hit up a writing class at Barnes & Noble. 'Twas refreshing. Afterward, when talking with the teacher, the administrator interrupted and said, "Is your book the one that came out with the CD?" I was so happy! Yes! Yes, that is me! Whee! Afterward, I met up with friends and headed to
Andy's
show at the Cutting Room, which Mr. Big owns, by the way.
03.09.07
We had fun at the show. (NYC)
Saturday is always exciting because it's the first real brunch day. I had brunch with Kristen at
Jacques
, a mediocre French restaurant in SoHo. Bad sign: It was empty when we got there, except for the waitstaff, who all stood around staring at us while we ate. Awkward. But Kristen always knows how to make everything fun.
Then we walked down to
Elizabeth Street Gallery
.
The space.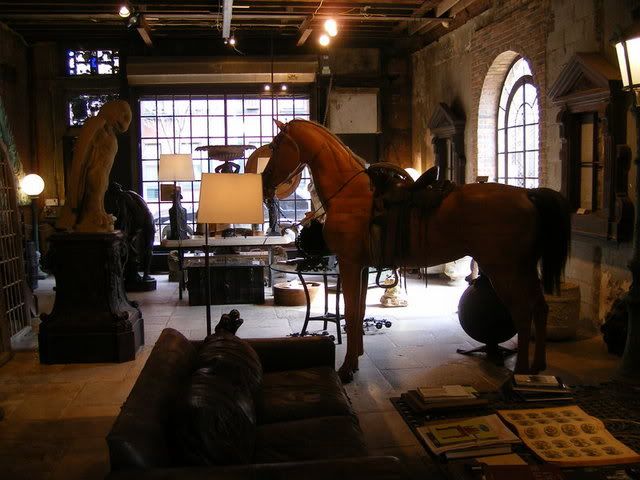 Old shooting gallery from a carnival.
Kristen with a coldhearted woman. Er... man.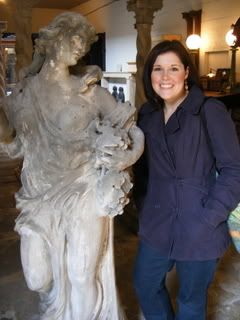 We shopped on the street in SoHo and NoLIta a little. I had plans to meet up with Amanda, so I headed uptown to Union Square. Then,
without even trying
, we ran into Zac and August, who are shopping for an apartment in my neighborhood. It's about time! Most of my friends are split between the Upper West Side and Williamsburg, Brooklyn, and I don't like having to travel 45 minutes to see them, so I pray they find something nearby.
03.10.07
Here, August displays two of my street finds: a vintage ring and necklace. They were super cheap! Also, based on a discussion we had, I'm taking a vote: what do you think of August's sweater? Leave your answer in the comments. (NYC)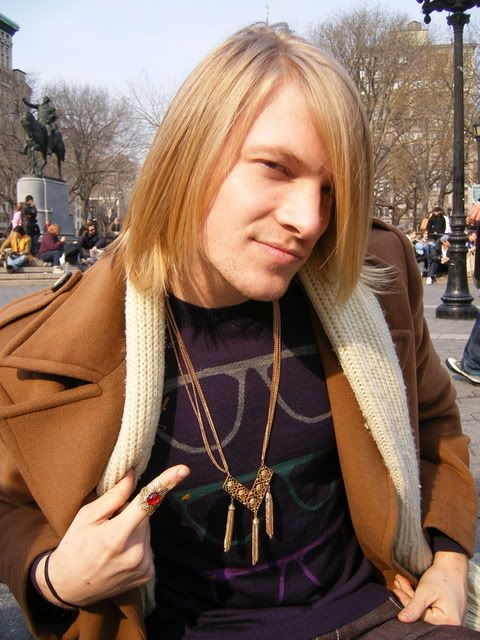 Amanda and I hit up the "I Love New York" exhibit at
33 Bond
. Meh.
Then I walked over to the West Village to meet up with Jessye for dinner at
Tartine
. We ate outside, even though we had to wear our coats and hats.
All those people are standing in line to get in; but because of Jessye's suggestion that we sit outside, we got to skip the line! Good call, Jessye!
We were talking about places for dessert and our conversation went something like this...
Me:
What's that place with the cheesecake?
Jessye:
Um... you're going to have to narrow that down. This is New York.
Me:
It's something that has a New York type of name. Like... Rockefeller or Knickerbocker.
Jessye:
Like... Carnegie?
Me:
YES! Carnegie Deli!
Jessye is just
good
. So we went up to Carnegie Deli. Passed these slabs of meat on the way. Ewww.
While we were eating, this woman's daughter's sandwiched arrived. Holy monkey. It looks like they laid two of those slabs of meat onto some bread.
Since I was feeling sick and was entirely disgusted by the slice of cheesecake that I ate, I decided to walk the 3 miles home. It started to rain, but I didn't mind... snapped this picture in Bryant Park around the time the sprinkling began. This city KNOCKS MY SOCKS OFF.
03.11.07
Today was Spring Forward, so I slept in. We had brunch plans, but no one felt like getting up. After a series of text messages, we called it off. Later, I went for a walk through the village and saw this pretty blue door. I want a shirt in this color, if anyone knows where to find one. (NYC)
Here's my State of the Street Address, brought to you from the Meatpacking District: BAD.
After that, I caught the train to
church
. Next week, we're going to start having 5 services. They've been having to turn away roughly 100 people at the 7pm service, because we're meeting fire code at nearly 1,000 per service. All that, even after planting several (19?) other churches in the city. That makes me very happy for the people of New York City... I hope they feel the Love.
Action packed. And now, my bed is calling.
*