Woke up around 3:30 this morning, finished packing, drove to the San Francisco airport, returned Hamesh (my rental car), then began the long trek home to NYC.
Here is where I sat:
Those pointy things on the horizon... that is lower Manhattan. Aaagh... beautiful!
I got in around 5:30 p.m, at which point I had to acquire my car from a parking lot in New Jersey, where my gracious friends had agreed to store it while I was gone for the month. Thank you, Fosses!
Marcy picked me up at the airport. Her finger has healed. We reminisced about good times in Colorado, then she took me to see my favorite non-family kids: Katie, Ben, and Ali. I promise: when they're not making faces, they look like a JCrew ad.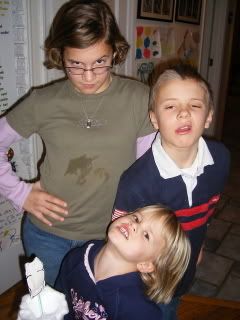 Driving from NJ into the City, I took this lovely, shaky (consider it artsy) photo of the Holland Tunnel. It was only afterward that I remembered that it's illegal to take photos of the tunnels and bridges of NYC (no thanks to the terrorists). Oops!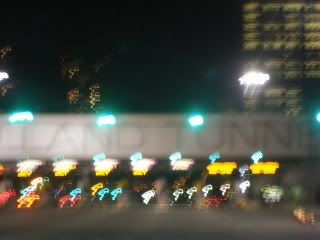 I found a parking spot without too much trouble, and finally got home at 9pm. Later in the evening, I went for a very, very late Reunion Dinner at
Steak Frites
. Good times!
But I'm getting a little ahead of myself. Here are my Photo-A-Day shots from yesterday and today.
01.28.07
I know you want to live vicariously through my photos, but it made me sick. I wish I could handle this stuff (Palo Alto, CA).
01.29.07
My bed. Four weeks of mail. Took two hours to open. But I felt very loved. Especially by people who want to give me credit cards. Hah! (NYC)