At the end of my last tour, I ran into a guy I've known for about 5 or 6 years now, and we started to talk about writing songs together.
Not only is he incredibly talented, but he happens to major in the thing I minor in, and vice versa. I've been focusing primarily on lyrics, and
Lee
makes them come to life. After I gave him the first bits of lyrics (which he also helped write), he had the demos finished within 24 hours. Unbelievable!
We're working on a bunch of new stuff that I'm really excited about. But for now, you can listen to our first two songs on our
MySpace page
.
As we were coming up with a name, I suggested we go with "Tara Lee" (haha!) but
Lee
had a better idea... something that merged the notion of his small town South Carolina-ness with my NYC-ness.
Thus, we are:
Trailer Park Avenue.
Here is our flashy-trashy picture, brought to you by the wonderful and lovely
Lindsay
. Dig it.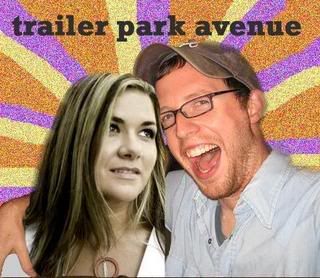 P.S. I'm not saying that one of us is "flashy" and the other is "trashy," but that the picture itself is both flashy (glitter sunburst) and trashy (um...
glitter sunburst
).