Today was monumental: I purchased my first Christmas ornament.
I haven't had a tree in all of my adult life, nor have I sent cards. I buy few presents, and I rarely bake for parties. Admittedly, I've been a bit of a Grinch. But something was different this year. I'm pretty sure that it's because of... well, you guessed it: New York City.
Tonight, I had a mission to find an ornament with My Boyfriend (the Chrysler Building) on it. There are lots with the Empire State Building and the Statue of Liberty, but no Chrysler. I had an inkling that Macy's might deliver, being that it holds the title of "largest store in the world." But that meant I'd have to go headlong into Tourist-Ville.
I went in baby steps, stopping first at Union Square, which offered a great view of the Empire State Building and the Met Life Tower in full red-and-green glory.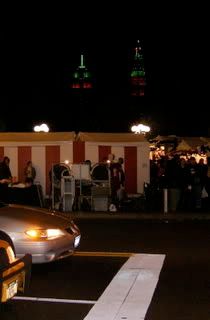 Then I made my way through the Holiday Market, but not without picking up a sterling silver ring for $12.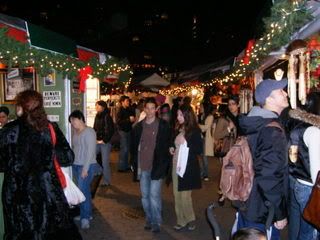 Heading uptown, I made my way through the Union Square light display. Little snowflakes form around your body and follow you through. Pretty spiffy!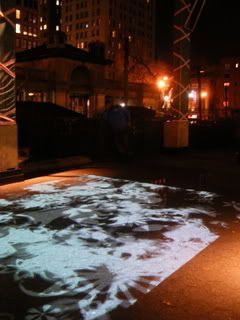 Then, off to Macy's!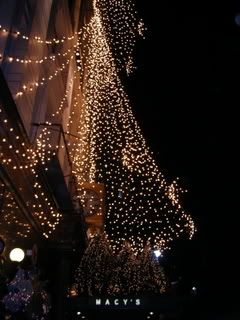 Here are my top 3 pics for favorite window displays: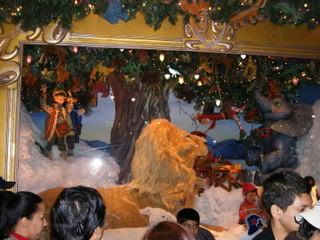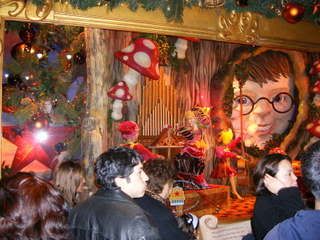 Actually, let's be honest. Those were just the 3 that I got the clearest shot of. Let's go inside, shall we?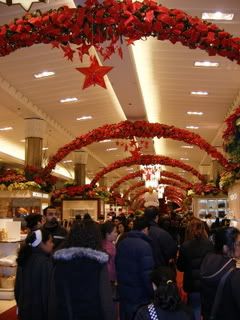 Once inside, I asked where the Christmas section was, and the information lady told me it was on the 9th floor. The
ninth
floor??? Okay. Saddle up. Time to ride the super-cool old escalators!
The 9th floor held a lot of promise. Tons of ornaments. And this giant tree, cluttered with large ornaments of all variety of NYC paraphernalia. But sadly, there was no sign of a Chrysler ornament.
That's when I saw it. On the back, facing the wall, about a foot from the top and far beyond reach... the one remaining Chrysler ornament in all of Macy's. YES!!! I summoned an employee, and within 10 minutes, I had my first Christmas ornament in my adult life.
I was so happy that I decided to take My Boyfriend on a spin through some other sights in Midtown. We went to the Rockefeller Christmas Tree.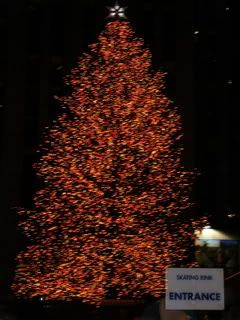 On the building behind the tree (the MetLife Building... not to be confused with the Met Life Tower shown above), there were falling snowflakes. You can't see them well in this shot, but trust me, they're pretty!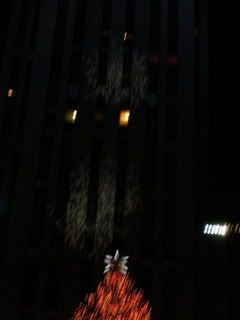 Here are some skaters who paid way too much to be there, and stood in line for way too long. So I hope they're having fun!!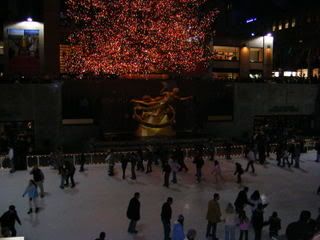 Think I was lying about the wait? Here's the line:
And just behind all those wonderful people, you can see the light show on the Saks building on 5th Avenue. Here's a short video from YouTube. The light show is set to "Carol of the Bells."
I topped off the night with some Tasti D Lite and a viewing of The Holiday. I'm starting to like this Christmas thing. Who knew?