Today, after I finished up a long day of working on bookings and replying to emails, I had plans to meet up with my friend Robbie for dinner-ish. In keeping with my rule of never going to the same restaurant twice, I logged on to
MenuPages
and checked out places in my neighborhood that I hadn't visited.
We decided to hit up
Tisserie
in Union Square. I had the turkey and cheese quiche and Robbie had this amazing barbecue pizza, which he was kind enough to let me taste. He only ate about half of it, because he dances with the New York City Ballet and had to perform in The Nutcracker in just over an hour. Yikes!
Then we went to the Holiday Market in Union Square. They had some amazing smelling candles. This particular one ("Cut Spruce") was like having an entire forest in your nose!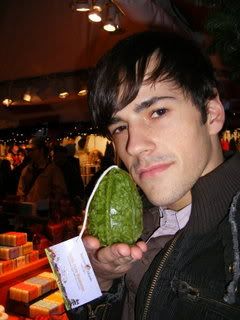 We also had an interesting lesson in new insult terms.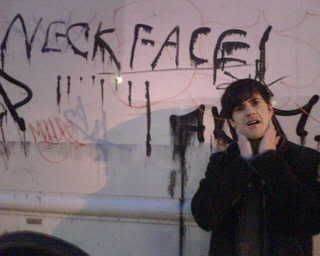 I don't really think Robbie has a neckface... do you?
Then I got a call from my friend Shawn, who is one of the 27 people I know who are visiting NYC this month (no kidding). It was a fun surprise!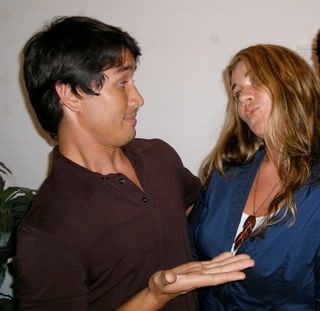 Shawn used to live here, so all the guys were happy to see him. (Josh, Seth, Shawn)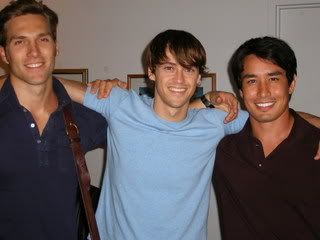 Then, Shawn and I caught the train to go visit Kimberly for her big birthday party tonight! The following pictures were NOT taken tonight, because my camera died. However, I want to keep you in the loop, so I am posting some old pics from when Kimberly, Adrienne, and I went to eat at NYC's new automat: BAMN!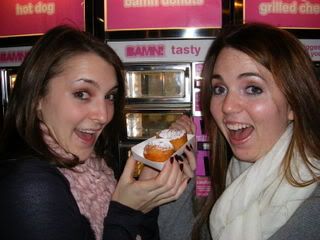 What's an automat? It's like a room-sized vending machine with hot and fresh foods in the little slots. There's a guy cooking it in the back. Automats were pretty popular before the advent of the fast food restaurant. Then they all died. But now we have one again! Hooooray!!!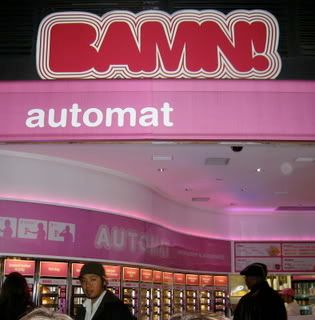 We had donuts. They were tasty.
Happy return to NYC, Shawn! Happy birthday, Kimberly!
Happy opening-a-few-months-ago, BAMN!