1. I do not understand the FAA's "put your liquids/gels in a plastic bag" thing. If I were planning to make a bomb of those things, does the baggie render them useless? Does it become, upon passing through the X-ray machine, impenetrable? This is just plain weird. One security guard even told me that "the area beyond this checkpoint is sanitized." Right. I've been to your bathrooms. It
sooo
is not.
2. Someone threw up on my car. I had to park it in not-my-neighborhood after returning from the airport. The spot I found was outside a bar. I'm sure that didn't help. I just hope it rains soon.
3. I'm reading this book. It's kind of changing everything. You can get it for free
here.
Please do.
4. New "favorite thing in the world"? These mittenlets, a Christmas gift from
Lindsay.
Top four reasons why they are awesome: They are green. They are cashmere. She made them. I love her.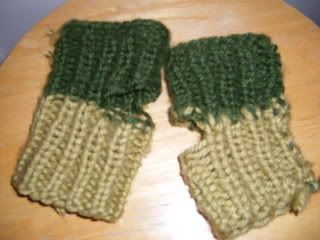 note: please forgive my nails... they're kind of gross from all the packing I've done today.
5. Danger is in town for the holidays. He just accepted a job in the sub-Amazonian jungles of Bolivia. He'll be cutting trails for hikers and plotting routes for climbers. So, for now, he has dreadlocks. How fitting! Also, he brought me this bracelet from Bolivia. The bird represents hope. Beautiful!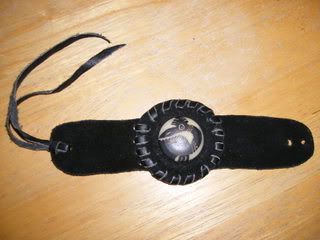 6. On Jan. 1, I am heading to ATL for Passion '07. Then I fly to Denver to begin the tour out west. Please
come see me
.